Modelling the Linguistic Worldview: Subject Field Scoping Review
Keywords:
fragments of linguistic worldview, language, linguistic worldview, modelling, scoping review
Abstract
Background. The linguistic worldview theory stems from Humboldt's ideas concerning the interdependence of language and its speakers. Since Humboldt's time national linguistic worldviews remain a challenging aspect of linguistic research accounting for a significant number of publications. Since linguistic worldview is a multi-faceted phenomenon, studies differ in terms of the facets they investigate and applied methodology. The linguistic worldview research has covered a wide array of linguistic worldview fragments and utilised monolingual material as well as cross-linguistic analysis of worldview fragments. However, so far, little attention has been paid to the analysis of this ever-increasing body of research and quite few studies have attempted to review the literature in this field.
Purpose. The subject field scoping review aims to overview the available literature on national linguistic worldviews and answers the three questions: What is a diachronic change of researchers' interest in the issue? What fragments of linguistic worldview have been investigated comprehensively? What are the most frequently used methods of modelling the linguistic worldview?
Methods. The literature for the scoping review was retrieved from the three electronic databases: SciVerse Scopus, Web of Science (Core Collection), and Google Scholar. Literature selection was performed in accordance with the Preferred Reporting Items for Systematic reviews and Meta-Analyses (PRISMA). To generate a list of current research directions, which rest on the analysis of fragments of linguistic worldview, the visualisation map of authors' key words was created using the VOSviewer software.
Results and Implications. The concise scoping review of the previously published literature on linguistic worldview shows that most publications date between 2015 and 2021 and the years yielding most publications are 2018 and 2019. The number of publications mentioning linguistic worldview grew each year within the study period. The analysis of linguistic worldview fragments helped to identify six directions of researchers' interest in the linguistic worldview field which include lexical fragments, linguistic worldview and consciousness, phraseological fragments, reflection of linguistic worldview in different discourses, linguistic worldview in translation and teaching, and grammar fragments. The most frequently used methods of modelling the linguistic worldview are an associative psycholinguistic experiment, a conceptual analysis, and a comparative method.
Downloads
Download data is not yet available.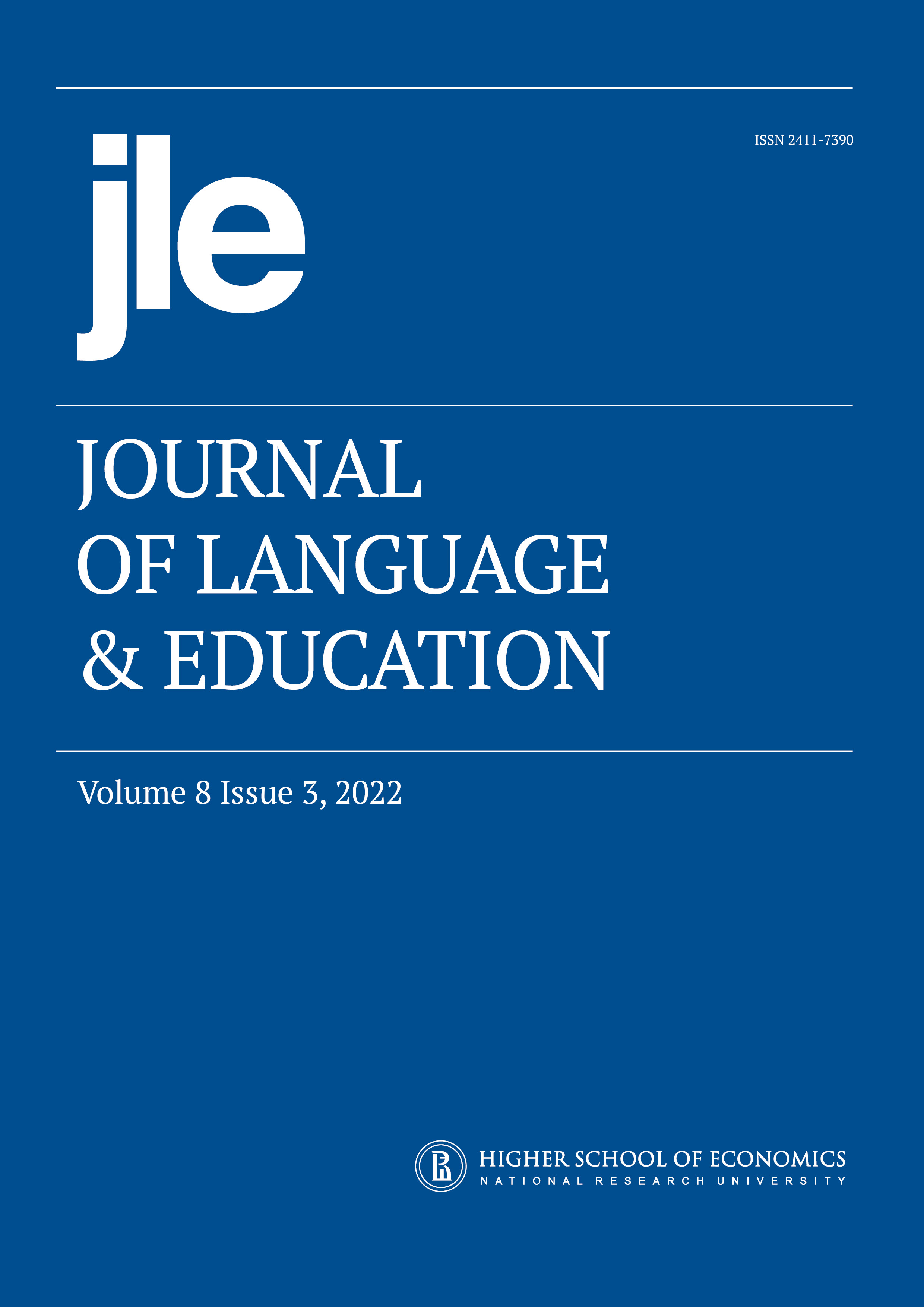 How to Cite
AntonovaM., BaranovskayaT., ZakharovaA., & LiS. (2022). Modelling the Linguistic Worldview: Subject Field Scoping Review. Journal of Language and Education, 8(3), 150-166. https://doi.org/10.17323/jle.2022.14433
Copyright (c) 2022 National Research University Higher School of Economics
This work is licensed under a Creative Commons Attribution 4.0 International License.
Authors who publish with this journal agree to the Copyright Notice.