An In-Depth Glimpse into Research on Academic Writing
Keywords:
academic writing, scholarly writing, lexical bundle, rhetoric, genre, discourse
Abstract
Background. Though research on academic writing has been in focus for many years, it has been changing recently to embraces new linguistic and pedagogical aspects. The "Publish and perish" concept went global some time ago and became the measure of academic excellence and performance for universities and faculty. Subsequently, the field has widened to include issues of writing for publication, research article structured formats, rhetoric of the scholarly text, genre-specific issues.
Purpose. The editorial review aims to identify and offer the emerging landscapes in academic writing as guidelines for JLE aspiring and recurrent authors.
Methods. The review covers the 167 top cited publications (articles and reviews) selected from the Scopus on the basis of the inclusion criteria (published articles and reviews in the period between 2012 and 2021 in English with more than 14 citations in Social Sciences and Arts & Humanities).
Results. The initial search for publications on the "academic writing" keyword brought 1,792 as of May 21, 2022.  After the inclusion criteria were applied, the list boiled down to 1,002 publications. Based on the prevailing keywords in these articles and reviews, 14 thematic clusters were formed, later increased to 15 to comply with the papers on the selected list. Then the 167 publications were distributed among the clusters, based on the keywords, and focus of the research. An in-depth analysis highlighted the popular aspects and issues within the clusters. Thus, the major directions of research were determined. The review findings contribute to better understanding of the field of AW and encourage researchers to further explore the emerging gaps and challenges in AW.  25 keywords were outlined as the most frequent in the field of academic writing. The major directions of research entail teaching and learning AW in higher education; digital issues of AW; lexical bundles and vocabulary; identity, complexity, stance, and voice; country-related research; genre issues in AW; feedback and assessment in AW; writing for publication; plagiarism and integrity; academic literacies; discourse and metadiscourse; discipline-related issues; citation issues in AW; writing a thesis; and rhetorical aspects in AW.
Implications. Following the findings of the JLE editors' review, our readers may get focused on popular and pertinent directions in their future research.
Downloads
Download data is not yet available.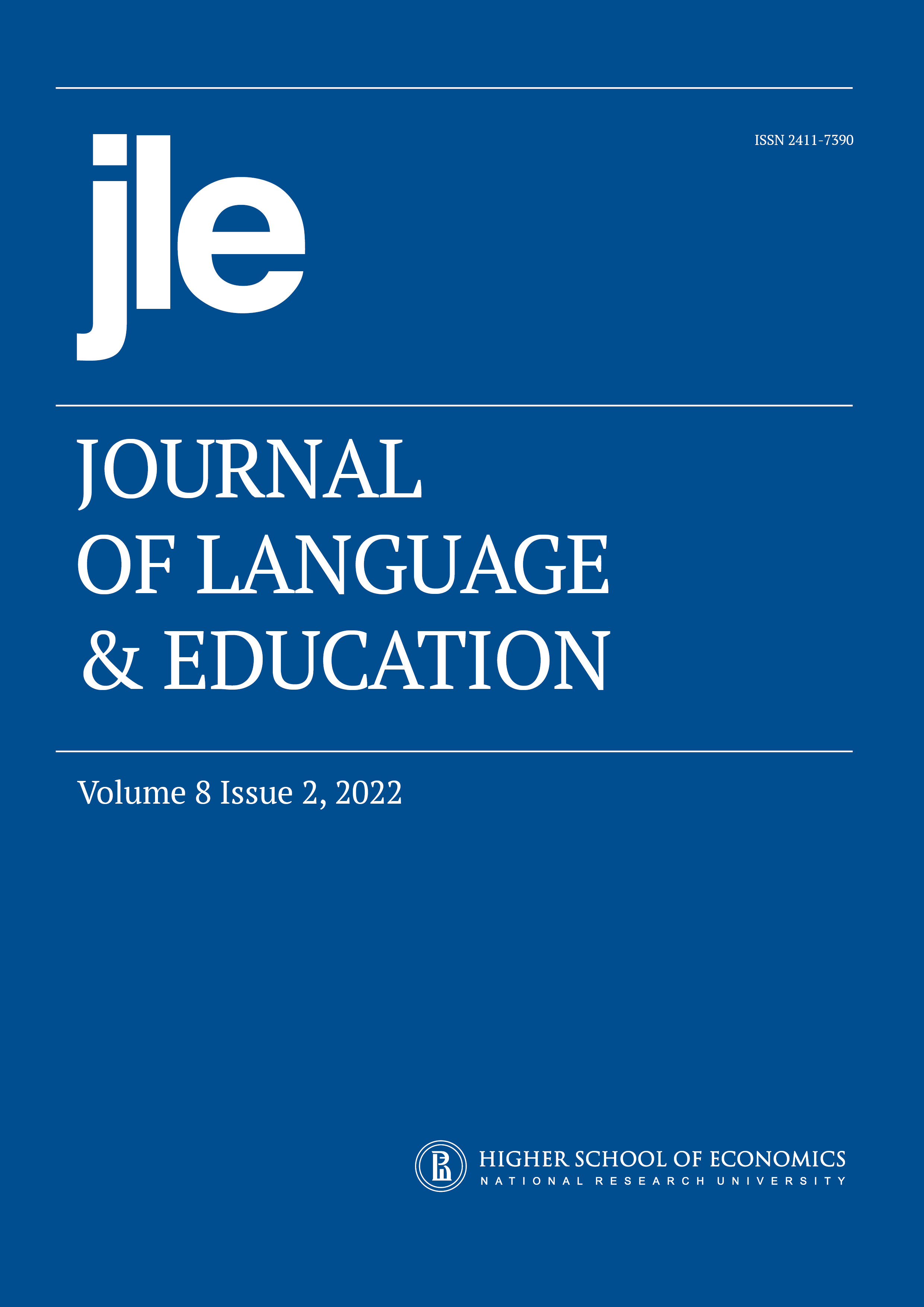 How to Cite
RaitskayaL., & TikhonovaE. (2022). An In-Depth Glimpse into Research on Academic Writing. Journal of Language and Education, 8(2), 5-16. https://doi.org/10.17323/jle.2022.14586
Copyright (c) 2022 National Research University Higher School of Economics
This work is licensed under a Creative Commons Attribution 4.0 International License.
Authors who publish with this journal agree to the Copyright Notice.